We are very excited to announce the following new Bullseye Store Locator features: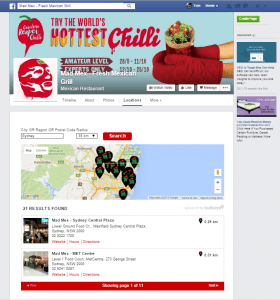 #1 Mapping for Facebook
For those of you who are into social media (and who's not?), our Facebook Store Locator now has the option to include a google map. If you are already a FB customer, contact us to discuss configuration required to support the new mapping feature. Once you are configured, go to the FB configuration panel to turn on the feature. Configuration for 1000 locations is free. Additional costs may apply for customers with more than 1000 locations.
#2 Batch Location Import
Looking to synchronize your in-house database with Bullseye Stores or Dealers? Our new batch import tools allow integration via XML files placed on our secure ftp directory. Do a one-time import or setup automated processes to keep data up-to-date and accurate.
#3 Salesforce Integration Adapter
Improve accuracy by synchronizing your Salesforce data with Bullseye. Our newest add-on allows data to be mapped between Salesforce and your Bullseye locations and uses batch location import to seamlessly pass data from Salesforce to Bullseye. Integration can be scheduled to run automatically daily, weekly, or monthly.
#4 REST Lead Web Service
Simple, but effective. Our new REST web service for leads offers an alternative to the SOAP web service for developers who want to work with REST. Good for PHP developers and developers on other open source platforms.
Contact us today for a free trial at 1-800-606-1415!
Coming Soon….Keep your eyes peeled for more great news coming this fall.