Now more than ever, shoppers need accurate, up-to-date information.
Across the nation, store hours are changing. Retailers like Apple, Nike, and Nordstrom have closed their doors temporarily due to coronavirus concerns. Grocers like Walmart, Kroger, Publix, Wegmans, and Albertsons have shortened hours to safeguard customers and staff by disinfecting and restocking food and other essentials.
With people over 60 at increased risk of developing severe COVID 19 symptoms, chains like Stop & Shop, Whole Foods, Target, and Safeway are now setting aside special "senior hours" for high-risk shoppers to help minimize their exposure to the Novel Coronavirus.
Retailers are also seeing increased demand for online delivery, especially for groceries. To prevent spread due to contact between driver and customer, stores and services providing online delivery have moved to contactless drop-offs with customers leaving special instructions such as "leave the package on the porch."
Customers Care About Changing Store Hours
Communication is essential to building trust. Now that shoppers are following guidance to shop less frequently, showing up at the wrong time can exacerbate an already stressful situation. Minimizing consumer frustration by updating store hours online does double duty, building brand trust, while protecting your business against lost sales.
Top 10 Best Practices for Communicating Changing Store Hours
1. Store Locator
Use your website's store locator on your website to share the open and close hours for each location. A full-featured store locator can also be used to communicate special hours and to advertise events, services, or landing pages with helpful information.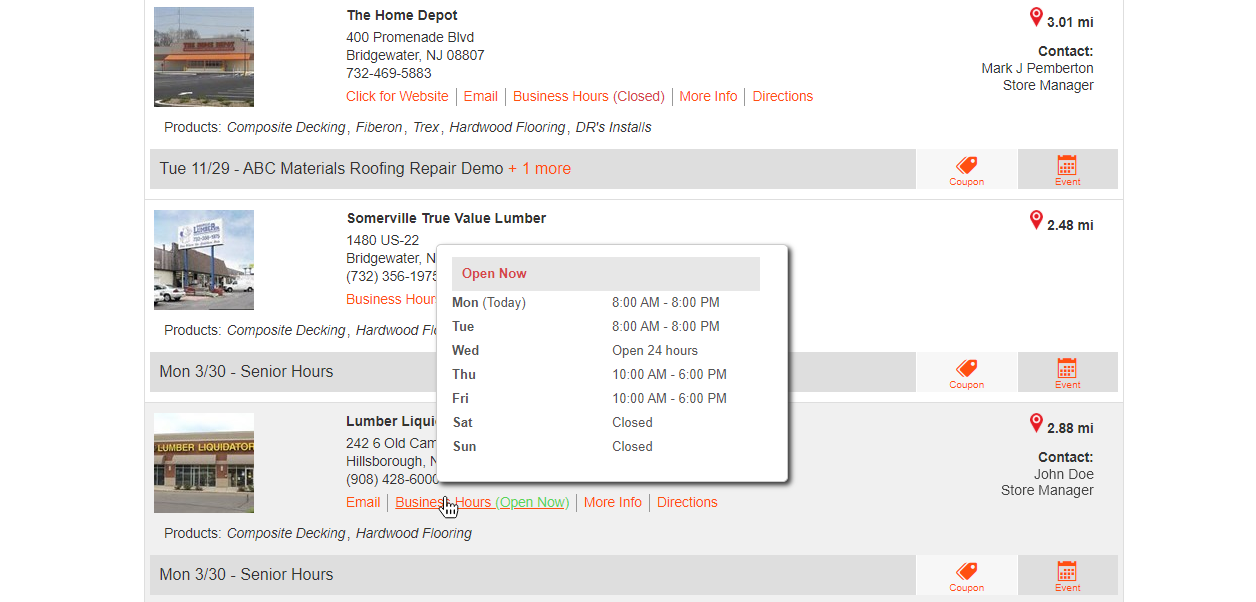 2. Onsite Signage
If your business location receives foot traffic post signage on doors, windows, and bulletin boards, or update a digital sign with up-to-date information.
3. Telephone
Update your IVR store locator software, automated phone greeting, voicemail, and any other consumer-facing phone functions with your current hours of operation.
4. Social Media
Posting social media updates to let the community know about changing hours also lets them know you're open for business.
5. Website
Update your site with a banner, headline, or even a temporary pop-up. Don't forget any mobile sites, support sites, or online stores that you may have.
6. Directories
Post updated hours of operation on business directories like Yelp.
7. Email Signature
People notice when you add a note to your email signature.
8. In-Person
Word of mouth is a powerful tool, so spread the word and ask your staff to do the same.
9. Email
Send a newsletter or email blast to your customers and let them know.
10. Text Message
If you already communicate with customers via text, this is a great way to stay in touch and offer timely updates.
Helpfulness is a can't-lose brand strategy.
Taking the time and effort to communicate up-to-date store hours shows customers that your company cares about them and that they can count on you in a crisis. And when this difficult time has passed, your business will have earned their trust and brand loyalty.
---
We've put together a few resources that will help manage hours efficiently and effectively.
Senior Account Manager Tom Flynn shows you how to mark stores as closed or eliminate stores from the locator results without deleting them.  Our strategies work whether you use store hours or not. Feel free to check out our corresponding
Knowledge Base article
as well.