Late last month, we completed a very exciting project which dramatically extends Bullseye Location's lead management and sales automation capabilities.  We built our first zap!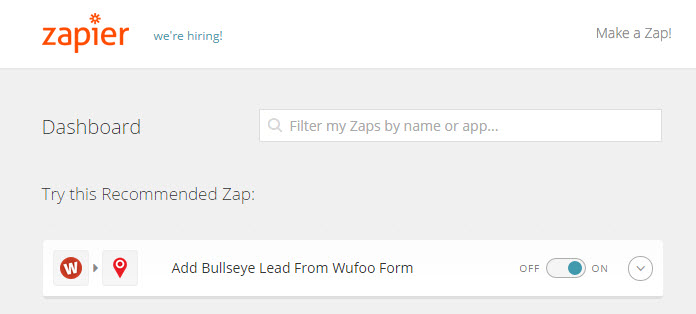 Zapier is a hosted cloud service that let's you easily connect web apps together with little or no programming.
Using Zapier's developer platform, we integrated "Add Lead" capability via the Bullseye API.  Zaps created using the Bullseye "Add Lead" method can now capture data from a web form and use the Zapier integration to pass it into Bullseye Locations as a new lead.  This opens the door to use a variety of the cloud-based form building tools like Wufoo, Formstack, or Unbounce as a lead capture source.



Using Zapier, clients can significantly reduce the cost of implementing Bullseye's lead management module.  Clients can now simply map data between an existing cloud-based form application and Bullseye.  Depending on your form software, the Zap can be triggered or will poll for new form entries which are then automatically submitted to Bullseye for routing to the nearest dealer or dealers.
More Zapier Integrations are on the Way
We expect this to be the first of several methods that we support through Zapier.  The next will be pulling leads from Bullseye and integrating with CRM systems like Zoho and Salesforce.  When it's completed, accounts can then use Zapier to pass leads into CRM, marketing automation, and email marketing systems like MailChimp and Campaign Monitor.
The Bullseye integration on Zapier is live, but available to clients on an invitation only basis.  If you'd like to setup an integration, contact Tom (tflynn@bullseyelocations.com) or call 800-606-1416, we'll be glad to provide access through your Zapier account.