In the last few months we've seen a lot of interest in Bullseye's lead management features.  Lead manager features are a great way to utilize your dealer locator software as a tool for generating interest and turning anonymous users into actionable leads.  Our dealer or store locator comes with an easy-to-enable lead capture form built right into the dealer result listing.  You can also create a custom form and use Wufoo, Formstack or any cloud-based form building tool to route leads.
In response to your feedback though, we've also been hard at work adding new features to make Bullseye even better.  Here are some of the important ones that we are rolling out or have rolled out.
Lead Manager Test Mode
Our new lead manager test mode makes it easy to test routing rules, style and configure emails and ensure that your Bullseye account is set up correctly before going live.  Test mode is available when the lead manager subscription is turned on and allows you to enter a comma separated list of emails which are used for testing purposes.  When your account is in test mode, all lead submissions from the dealer results, from form submissions or from the web service automatically route leads to the test emails with an indication of the original assignment.

Dealer Registration and Logins
Grow your dealer network, by providing dealers with online registration and listing management capabilities.  Turn on Bullseye's Locator Login and Registration feature through the Settings>Setup section of the admin.  Bullseye offers options for allowing new locations to manage category selections or just location information.  Bullseye also allows you to set whether or not new dealer registrations require approval before listings are live or they are allowed to receive leads.  You can also configure notifications to let you know when new dealers need approval.
Bullseye's Dealer Registration and login feature is available for Web Plus subscriptions and above.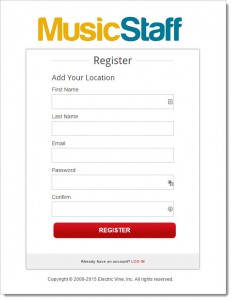 More Email Configuration Options
To make emailing easier and better, we've added additional merge fields to our configurable emails.  Now you can include lead info with or without address.  You can also include an update button in the email to give dealers the option of responding without logging into Bullseye.
Lastly, our forgot password email is now a template that you have the ability to customize with your own branding and content.  Keep in mind that in order to work correctly, you must have users use the login link which is available at the subdomain URL.  <<subdomain>>.bullseyelocations.com/admin/login.aspx.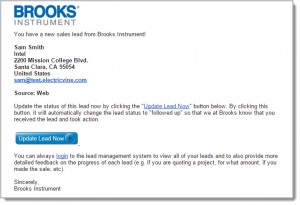 Bullseye's dealer locator software also integrates with a variety of other cloud applications allowing you to further extend and customize your solution.   If you have any questions or want help getting set up with any of these lead manager features, contact Tom at 800-606-1415 or use our online chat.